Consulting

V&A provides a wide array of consulting services, including hardware/software design, project management, and personal recruitment.

Software Design

V&A experts conceive and implement custom software and programming designs where packaged software is not available.
About Voelker & Associates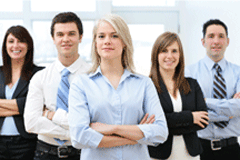 At Voelker & Associates, we are dedicated to providing the best solutions available to fit the needs of our clients, including custom designs if off-the-shelf products won't cut it. As a full service business partner, we offer hardware and software selections, procurement, management, day-to-day IT operations, and complete IT packages to a variety of industries from wholesale to retail distribution, building materials warehousing, and more. With an array of proven business to business retail software and ERP solutions for companies of all sizes, Voelker & Associates offer the products needed to enhance business efficiency and the 24x7x365 service to keep clients operating at their best.